The ELF is a patented innovative solution for the challenging task of decorating trees with holiday lights.  Everyone loves the look of trees glimmering with lights to celebrate the holidays or special occasions.  However, nobody loves the time and effort it takes to install them with conventional products or methods.
The ELF makes this chore EASY and above all SAFE. No more climbing ladders footed on uneven surfaces or spending hours in frigid weather. With your feet safety on the ground you can decorate any type of tree with minimal effort and depending on the pole of your choice you can reach heights in excess of twenty-feet. No more tangled lights either, the ELF Light Sack with a specially designed opening is easy to load and dispenses lights to the ELF smoothly and virtually tangle free.
Description
We have included the ELF Hook, a handy attachment used for making fine adjustments to the lights once in place on the tree. Thoughtfully designed to easily grab the light string at any point or holding the end plug for placement on a desired branch. This is a great tool to assist with taking lights down as well.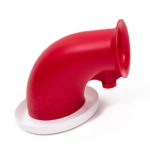 ELF Light Feeder – The ELF is a durable light-weight device that attaches to any extension pole with standard 3/4" ACME threads. Careful design considerations were given to shape and surfaces to allow strings of lights to pass through smoothly for placement at elevated heights.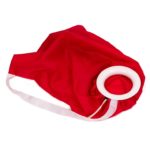 Light Sack – The Light Sack has a wide ringed opening that allows easy loading of connected light strings. The lights feed effortlessly and virtually tangle free from the Light Sack to the ELF and the shoulder strap allows both hands free to manage the extension pole.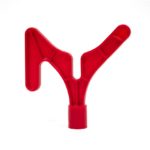 ELF Hook – This clever hook attaches to the extension pole for making fine adjustments after lights are hung or taking the lights down after the holiday or special occasion.  It is designed with a center slot which allows the light wire to drop in for control when pulling the string in a horizontal direction or grabbing the plug end.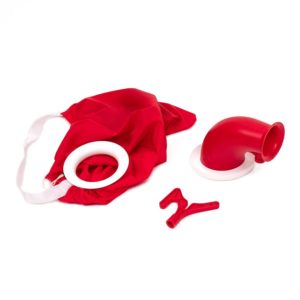 * NOTE – EXTENSION POLE IS NOT INCLUDED
ELF users have diverse requirements for the right size pole to fit their decorating needs. That said, it was designed to fit just about any extendable pole (painters pole) with a standard ¾" ACME thread. Our only recommendation is to select a quality pole that is fairly rigid when extended to desired height.  Here is a link to a pole that we can recommend for purchase at Amazon – Wooster Sherlock Extension Pole